Luxury Sri Lanka Holidays 2023/2024
Show menu
Overview

Top Deals

Things To Do

Useful Facts
Embark on an enchanting journey to a land of enchantment with our luxury Sri Lanka holidays, where the pristine beaches, lush landscapes, and rich history fuse to create an unforgettable experience. Holidays to Sri Lanka offer an unparalleled opportunity to indulge in the lap of luxury while immersing yourself in the diverse tapestry of this island nation's breathtaking beauty and time-honoured traditions. Affordable Luxury Travel's Sri Lanka holiday packages 2023 are meticulously crafted to provide our discerning clientele with a bespoke experience featuring opulent accommodations, exclusive experiences, and personalized service. From the vibrant capital of Colombo to the ancient ruins of Anuradhapura and the misty tea estates of Nuwara Eliya, our itineraries are designed to showcase the very best of this captivating paradise. Our Sri Lanka flights and hotel arrangements ensure that your journey is as seamless as it is luxurious. Arrive in style as you're whisked away to exquisite properties that blend harmoniously with their stunning surroundings, offering unparalleled comfort and sophistication. Each property is carefully handpicked to provide a sanctuary of serenity, where you can savour the tranquillity of your private haven while basking in the warm embrace of Sri Lankan hospitality. Luxury Sri Lanka holidays are not merely about pampering and relaxation; they are a gateway to a world of adventure and discovery. Delve into the island's rich cultural tapestry as you explore ancient temples, marvel at its diverse wildlife, and sample the flavoursome cuisine that makes Sri Lankan gastronomy truly unique. Let us guide you on an extraordinary journey where your every whim is catered to, and your every moment is crafted to perfection. Discover the magic of Sri Lanka with us, and let the enchanting beauty of this island paradise redefine luxury travel for you. Book your bespoke experience today, and embark on the holiday of a lifetime.
Things to do in Sri Lanka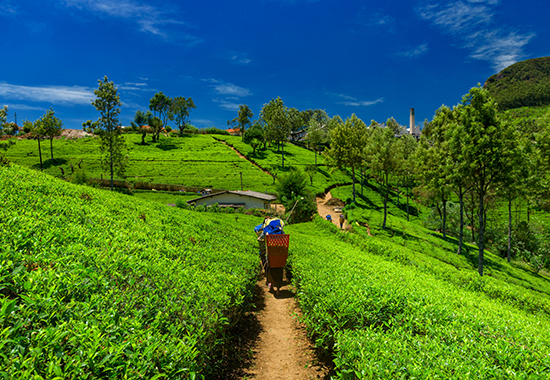 Visit Tea Plantations
Delve deep into the heritage...
Read more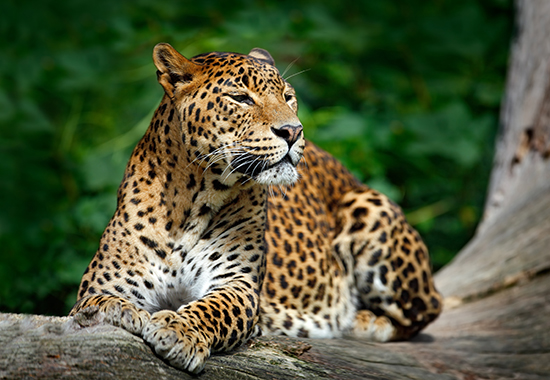 National Parks
Yala National Park situated...
Read more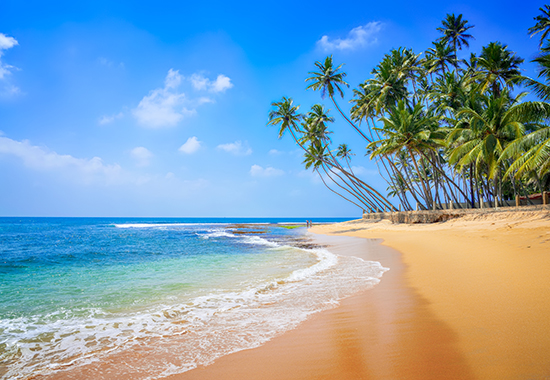 Exotic Beaches
There's no denying that...
Read more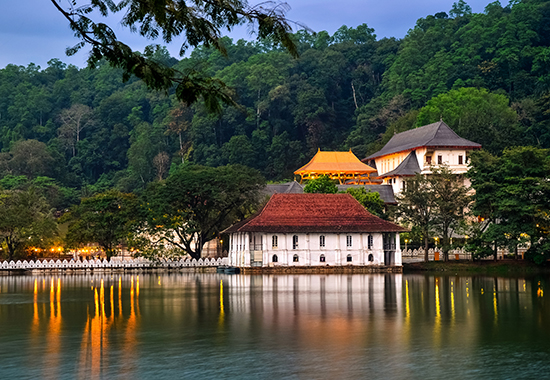 Explore Kandy
Regarded as the capital...
Read more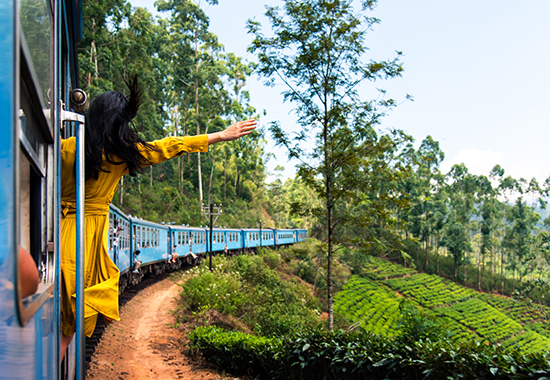 Catch The Train
Despite its miniature...
Read more
Useful facts about Sri Lanka
Time difference
GMT+5:30 hrs
VISA required
Yes
Population
2.14 crores
Currency
Sri Lankan Rupee
Delve deep into the heritage of Sri Lanka upon your visit to a Tea Plantation. Tea is one of Sri Lanka's most famous trades, and in 2020 over 265 million kilograms of tea were exported from Sri Lanka. The type of tea that is produced varies depending on where it is grown. The higher the elevation pf the plantation, the lighter the taste of the tea, whereas the lower elevated tea plantations produce stronger tea. Once you have arrived at one of many tea plantations, expect to learn more about the history and production process of tea. Enjoy picking tea leaves before discovering how they are transformed from a leaf to loose tea and even taste test the tea at the end of the tour.
Yala National Park situated on the island's southern coast is simply paradise for nature lovers. Crowned as Sri Lanka's most famous park, these grassy plains (which span a whopping 1268sq km) are rich in wildlife, where majestic encounters with wonderful creatures - including elephants, crocodiles and buffaloes - are almost guaranteed. This is also Sri Lanka's number one leopard sanctuary, so visitors will be sure to witness these big, beautiful cats close-up. Uda Walawe Natoinal Park is another must-visit if you want to catch a glimpse of your favourite animals, especially elephants – since this reservoir is home to just as many of these gentle giants as you'd find in the famous East African National Parks – now that's a lot!
There's no denying that Sri Lanka has some of the most beautiful beaches in the world, with this stretch of the Indian Ocean fringed by a variety of sun-soaked, golden sands. Bentota is one of the finest stretches on the west coast, with a string of first-class hotels and boutiques lining the sand and a host of exciting watersports – including a tranquil lagoon perfect for kayaking. Arugam Bay is another popular spot thanks to its surf-tastic waves, laid-back vibes and bounty-white sands. Mirissa's crescent bay serves up a taste of island life with a cluster of pretty guesthouses and beach cafes close to the shore, plenty of wildlife to admire (including turtles on the sand and whales often visible in the waters), plus a fair few massage centres available nearby, for ultimate R&R. Or if you're looking for somewhere lively, Galle Face Green is a coastal marvel with attractions fit for the whole family.
Regarded as the capital of culture, the ancient 'Kingdom of Kandy' is tucked beside a pretty lake in the highlands, and can be as slow or fast paced as you wish. While its got spiritual charm, historic sites, religious shrines and lush emerald hills in abundance, this crowd-pleasing city has a chaotic side too, with bustling streets, colonial architecture and a labyrinth of market stalls in the pleasing Old Town. If you want to get away from it all, a visit to the Royal Botanical Gardens is sure to soothe, or perhaps you want to head to the hilltops and admire the 88-foot Buddha Statue instead (you can't really miss it). Want to venture even further? Kandy is the starting point of one of the world's most beautiful train routes towards Ella, so keep your eyes peeled for the famous blue open train.
Despite its miniature size, Sri Lanka sure packs in its fair share of pretty epic rail journeys. Arguably our favourite way to travel, there's a host of traditional steam trains to hop on and off that will rattle oh-so-slowly past verdant rolling hills, tea plantations, tropical forests and tiny villages as you venture from A to B. At the top of everybody's itinerary is the train journey from the commercial city of Colombo to Kandy – the country's spiritual capital surrounded by mountains, rainforests and a handful of famous Buddhist sites, including the iconic Temple Of The Tooth.