Luxury Cambodia Holidays 2023/2024
Show menu
Overview

Top Deals

Things To Do

Useful Facts
Luxury holidays in Cambodia? Yes, you read that right. This offbeat destination, not often considered for luxury travel, hides incredible experiences you'll be shouting about from the rooftops. An underrated gem of Asia, Cambodia is an exotic destination with a captivating history and that big-heart Asian hospitality. You can expect your holidays in Cambodia to be nothing less than enthralling. Its majestic temples, lush jungles, pristine beaches, and exciting flavours are just some of the things you can look forward to. Expertly combining outdoor adventure with exquisite luxury experiences, Cambodia offers a variety of unique activities to fill your stay. Channel your inner adventurer exploring the UNESCO-protected jungle temples of Angkor, or hop on a breathtaking helicopter ride to see the magnitude of this 'Lost City' from above. Discover the vibrant culture, explore colourful markets, taste the local fare, and learn how to recreate it at home. What may come as a surprise, Cambodia also has white sand beaches and crystalline waters that could give Thailand a run for its money. In the spirit of luxury holidays, Cambodia even spoils you with a tiny private island all to yourself. You most likely will be glued to your private pool, but if you do wish to mix it up, you can snorkel and scuba dive, kayak to nearby islands, or renew your energy with guided meditation. Is this your ideal vacation plan? Browse our Cambodia holiday packages for 2023 and secure amazing deals on Cambodia flights and hotel bookings.
Things to do in Cambodia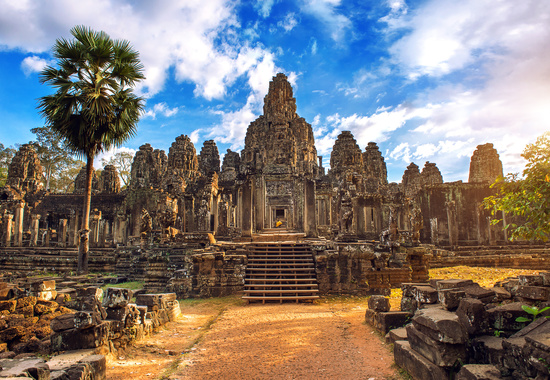 Temples Of Angkor
This enchanting 12th...
Read more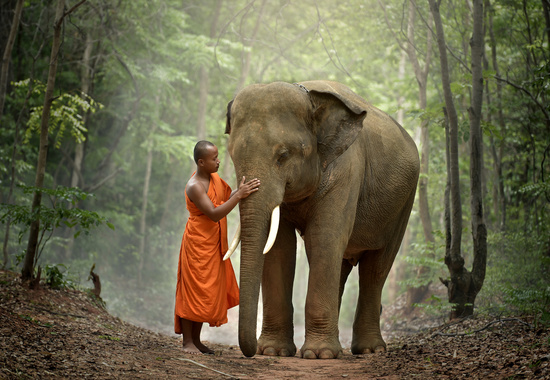 Mondulkiri Project
You'll find various elephant...
Read more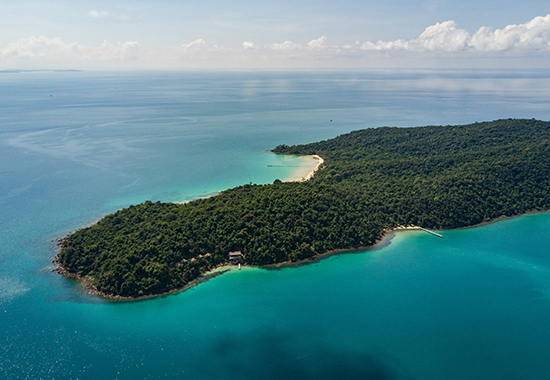 Koh Rong Sanloem
If a slow pace is what...
Read more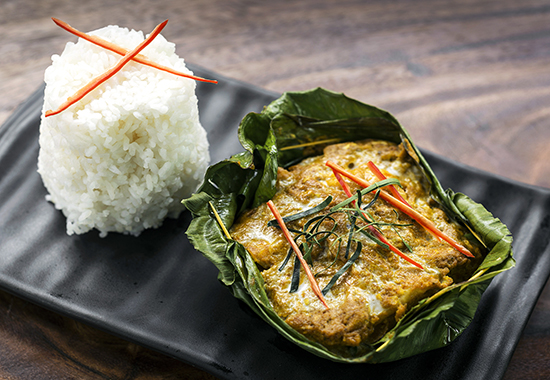 Indulge In Cambodian Cuisine
The cuisine is part and...
Read more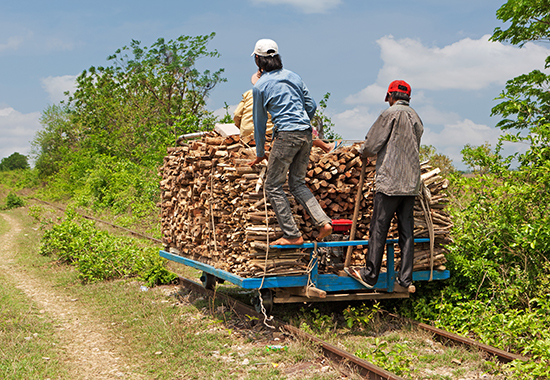 Board The Bamboo Train
Whether you're travelling...
Read more
Useful facts about Cambodia
Time difference
GMT +6 hrs
Approx. flight time
13 hours
VISA required
Yes - on arrival
Capital city
Phnom Penh
Population
15.6 million
Currency
Cambodian Riel
This enchanting 12th century city complex now enveloped in jungle fauna, was once the capital of the Khmer Empire. The Angkor Archaeological Park is a UNESCO World Heritage Site full of ancient wonders, temples and ruins to explore – including the Angkor Wat, crowned as the largest religious monument in the world. Hire bicycles or jump on a tuk-tuk to explore this expansive complex with a guide, ticking off the top attractions as you go. You can't miss the awe-inspiring Bayon Temple, a famous structure best known for its many towers featuring over 200 mysterious carved faces – see how many you can spot.
You'll find various elephant sanctuary dotted around Cambodia, and the Mondulkiri Project is just one of them. If you're after an immersive experience, this is where you'll find it, as you'll get the opportunity to hike through the jungle alongside the sanctuary's 5 rescued elephants. Book a two-day tour and learn more about these gentle giants from the Bunong people that work here – spend your time hiking, visiting the local farm, or even joining the elephants for a bath in the waterfall swimming hole!
If a slow pace is what you're seeking, head to sleepy Koh Rong Island. Nestled just off Cambodia's southern coastline, this palm-studded jewel amid bright turquoise waters is a haven for those who want to snorkel with exotic marine life, embark on jungle hikes, or simply laze on the stunning Saracen Bay beach. You'll find a lot of wildlife residing in this secluded spot, so keep your eyes peeled for monkeys – or if you want to admire the island like the sea eagles do, head up to the lighthouse for panoramic views.
Indulge In Cambodian Cuisine
The cuisine is part and parcel of your overall experience when you travel to Cambodia, and while this corner of Southeast Asia isn't as well-known as neighbours Thailand and Vietnam, it's still bursting with flavour. A few of the must-try's while you're here include Fish Amok, this creamy fish curry is a signature dish here, which is steamed and served in a banana leaf bowl. Lort Cha (recognised as noodles, bean sprouts and chives) is a popular pick-up too, often cooked with beef and topped with a fried egg. If you're experiencing one of the bustling street markets, you'll discover an abundance of weird and wonderful dishes, from deep-fried tarantula to barbecued Cambodian sausage and sticky rice and noodles. So be sure to bring your appetite.
Whether you're travelling with kids, or you simply want to explore this beautiful destination in style, hop on the popular Bamboo Train. One of Cambodia's most novel attractions located in Battambang, this gondala-inspired vehicle (also known as Norry) is a unique way of getting from A to B – originally built to help transport goods along Cambodia's overgrown railway tracks using wooden platforms - called norries. The cost for a ride is $5 and trundles past stunning scenery, including the Banan temple. It makes a fantastic experience for passengers big and small.