Luxury Singapore Holidays 2023/2024
Show menu
Overview

Top Deals

Things To Do

Useful Facts
Immerse yourself in the mesmerizing world of Singapore, an unparalleled destination for those seeking the ultimate luxury. This modern city-state boasts a breathtaking fusion of cultures, innovative architecture, and lush greenery, where every detail has been meticulously crafted to ensure an unforgettable Singapore holiday. Indulge in the finest experiences the city has to offer with our specially curated Singapore holiday packages 2023. Explore exquisite gastronomic delights at world-renowned Michelin-starred restaurants, unwind in opulent accommodations, and marvel at the shimmering cityscape from the iconic Marina Bay Sands infinity pool. Our bespoke luxury Singapore holidays promise an extraordinary journey into a world of sophistication. Discover an oasis of tranquillity amidst the bustling city with exclusive access to hidden sanctuaries, indulge in retail therapy at the city's most upscale boutiques, and admire the enchanting display of lights at Gardens by the Bay's nightly Supertree show. Our deals ensure you get the best experience with Singapore flights and hotel stays, carefully selected to cater to the most discerning tastes. With a plethora of luxurious options, you can be assured of a journey that will exceed your expectations. Our hand-picked collection of premium accommodations ensures that your stay will be enveloped in unrivalled comfort while world-class airlines provide a seamless and luxurious travel experience. From the moment you embark on your holiday to Singapore, our team of dedicated specialists will be at your service to ensure a truly bespoke experience. So, let us sweep you away on an unforgettable Singapore getaway, where you can bask in the dazzling allure of a city that redefines the very essence of luxury.
Things to do in Singapore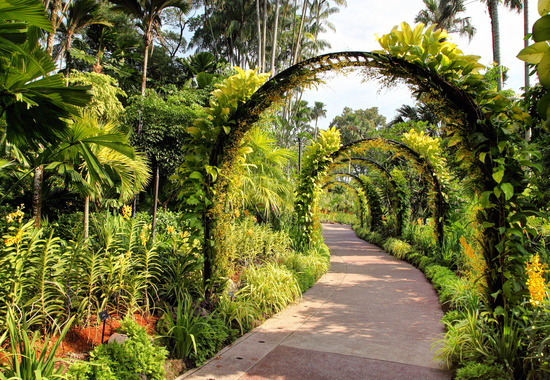 Singapore Botanic Gardens
Whether you're a nature...
Read more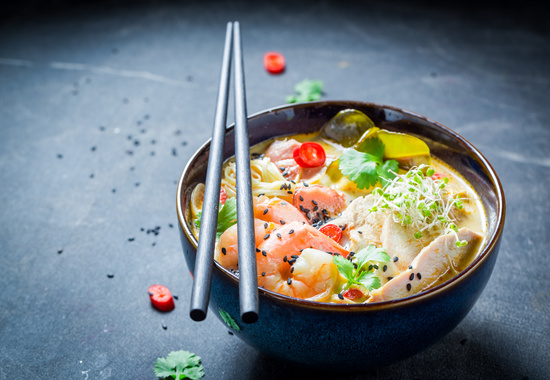 Eat Around The City
Singapore is a foodie's...
Read more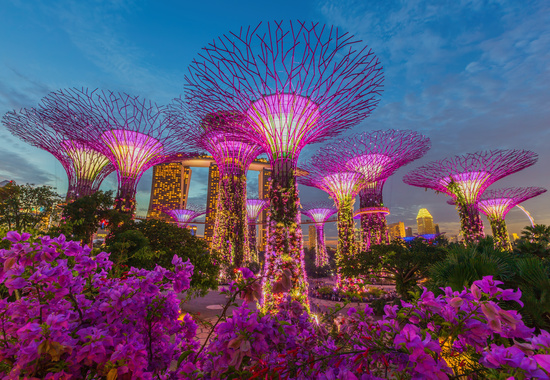 Top Attractions
From culinary adventures...
Read more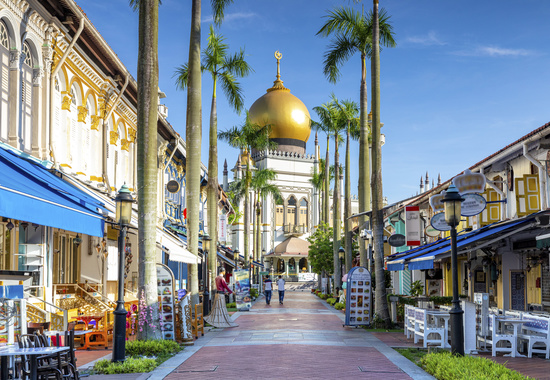 Kampong Glam
If ever there were an...
Read more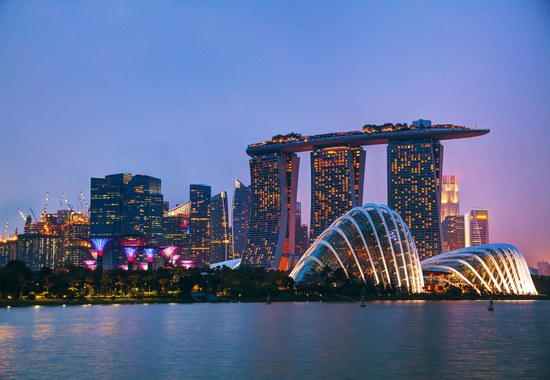 Marina Bay
If you like to lap up...
Read more
Useful facts about Singapore
Time difference
GMT - 6 hrs
VISA required
No
Population
57 lakhs
Currency
Singapore dollar
Singapore Botanic Gardens
Whether you're a nature lover or not, the Singapore Botanic Gardens is a landmark that everybody should visit during their travels. Situated in the heart of the city, this living monument was established back in 1859 and is crowned as the country's first UNESCO Heritage Site, beautifully transforming 60 acres of land into a recreational piece of art. The Gardens are crafted into main areas called cores. Enter through the Tangling Core and you'll discover the park's heritage, with much of the area's history and charm retained. The Tyersall-Gallop core is nestled within the park's existing rainforest and the Bukit Bukit Timah core is bursting with entertainment for little explorers, including treehouses and a farm. The Central Core is the main hub of activity, with over 1,000 species of orchids on display.
Singapore is a foodie's paradise, with gourmet delights around every humble street corner – whether you want to sample exotic street food or sophisticated Michelin-starred fare. As a multicultural country, it's no surprise that there are over 30 different cooking styles here, including Chinese, English, American, French, Indian, Indonesian, Italian, Japanese, Korean, Malay and more. The Hawker Centre is a host of food stalls serving up a variety of authentic local dishes sure to tingle your taste buds, from Lao Sim shredded chicken dumplings, to spicy noodle soup, pork rib "tea" and beyond. Or if you prefer not to grab and go, restaurants and diners such as Artichoke, Allium and Avenue 87 are great options. Splashing out? Michelin-star CUT by Wolfgang Puck located in Marina Bay Sands is a must.
From culinary adventures to cultural attractions, there's something for everybody to explore in Singapore. Orchard Road is the place to go if shopping is on your agenda, this bustling boulevard is a retail and dining hub, peppered with upscale department stores, designer boutiques, a whisky museum, art galleries and a host of world-class dining experiences. If futuristic is your thing, The Gardens by the Bay urban nature park is a real spectacle, most famous for its other-worldly Supertree Grove, exotic Flower Dome and artistic Floral Fantasy space. Fancy a drink? Raffles Hotel is a graceful colonial-style hotel (and landmark in its own right) popular for crafting the famous Singapore Sling cocktail in its Long Bar back in 1915 – plus, the hotel's tradition to brush peanut shells on the floor draws locals and tourists alike to it's shiny bar counter. Artistic types should make time to visit Haw Par Villa, a 3.2-hectare outdoor art park featuring over 1,000 weird and wonderful sculptures as a lesson on Chinese morals and culture – it really is one of a kind.
If ever there were an Instagram-worthy street, Kampong Glam is it. Bursting with colour, this vibrant neighbourhood district is known as Singapore's Muslim Quarter and boasts a treasure trove full of culture, history, art, religion – the list goes on. Saunter through this bustling hub and you'll find opulent mosques, carpet shops, boutiques, upbeat bars and exotic Middle Eastern cuisine – plus, the nightlife offers a packed calendar of live music, with bubbly jazz and cocktail bars to unwind in.
If you like to lap up the luxury while you're away (who doesn't?), then Marina Bay Sands is the place to see and be seen. If you have cash to splash, this ultra-modern entertainment resort fronting Marina Bay in the Downtown area of Singapore is thriving with attractions, from Michelin-starred restaurants to chic shopping malls, sampan rides across the canal and more. Admire the visual spectacle that is the Spectra Light and Water Show, which beautifully tells the Singapore story; visit the ArtScience Museum; or admire 360° views of the Gardens by the Bay and stunning Supertree Grove from the SkyPark Observation Deck – located 57 storeys up atop the world-famous Marina Bay Sands Hotel.