Luxury Vietnam Holidays 2023/2024
Show menu
Overview

Top Deals

Things To Do

Useful Facts
Discover the allure of luxury Vietnam holidays in a land steeped in history, vibrant culture, and breathtaking natural beauty. Vietnam's enchanting landscape unfolds before you, offering a plethora of unforgettable experiences. Our curated Vietnam Holiday Packages 2023 cater to those seeking an indulgent getaway, blending the finest accommodations, delectable cuisine, and personalized service to create the ultimate luxury retreat. Holidays to Vietnam promise an exploration of diverse panoramas – from the shimmering emerald terraces of Sapa to the mesmerizing beaches of Nha Trang and the tranquil waters of Ha Long Bay to the bustling streets of Hanoi and Ho Chi Minh City. Our carefully crafted itineraries are designed to immerse you in the heart of Vietnam's rich tapestry while providing exclusive access to private guided tours, immersive cultural experiences, and insider access to the country's hidden gems. As you embark on your luxury Vietnam holidays, rest assured that our handpicked Vietnam flights and hotel stays will provide you with the utmost comfort and sophistication. From opulent beachfront villas to boutique hotels, each property exudes its unique charm and showcases the finest in Vietnamese hospitality and design. Our Vietnam holiday packages 2023 also encompass a range of bespoke experiences, ensuring your journey is truly one-of-a-kind. Witness the spectacular sunrise over Angkor Wat on a private hot air balloon ride, cruise through the enchanting Mekong Delta on an exclusive luxury vessel, or partake in a bespoke shopping experience guided by a local fashion connoisseur. With our unwavering commitment to excellence, our holidays to Vietnam offer a unique blend of authenticity, refinement, and unforgettable experiences. Allow us to orchestrate your dream escape and immerse you in the unparalleled charm of this captivating destination, ensuring a luxury vacation that exceeds your every expectation.
Things to do in Vietnam
Halong Bay Cruise
Undoubtedly a bucket...
Read more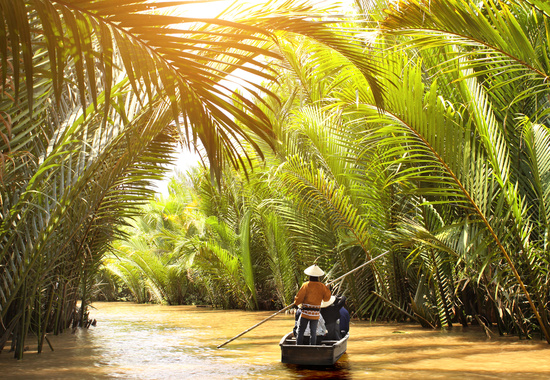 Mekong Delta
Consisting of a maze...
Read more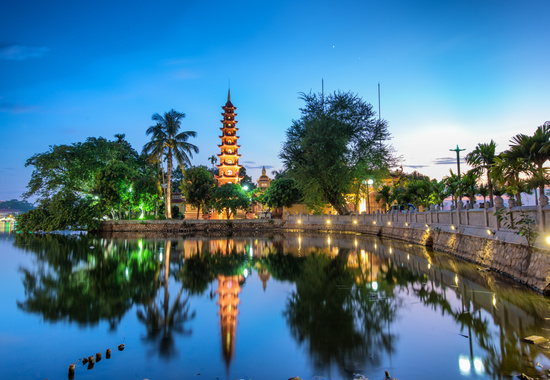 Hanoi
The capital city of Vietnam...
Read more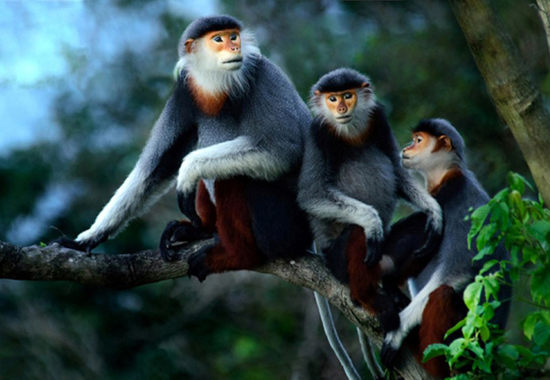 National Parks and Waterfalls
Vietnam is host to a...
Read more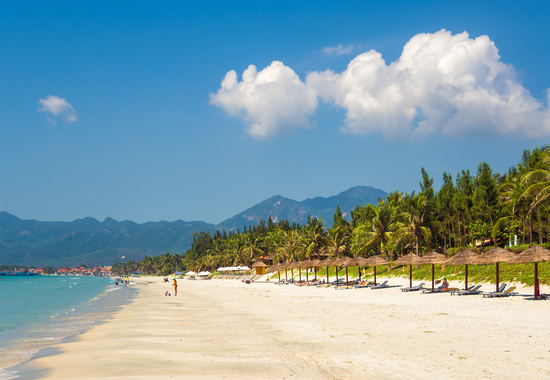 Beaches
It's probably time for...
Read more
Useful facts about Vietnam
Time difference
GMT +7 hrs
Approx. flight time
12 HOURS
VISA required
UNDER 15 DAYS - NO
Capital city
HANOI
Population
95 MILLION
Currency
DONG
Undoubtedly a bucket list experience, UNESCO-listed Halong Bay is a must-see on every travellers visit to Vietnam. Admire the natural beauty of the limestone rock towers which are sculptured by tectonic movement and engulfed by stunning emerald green waters. Stay onboard your luxury cruise ship for a night and enjoy dining and sipping your favourite cocktail whilst surrounded by spectacular landscapes. Plus, take the opportunity to get even closer and enjoy a kayak experience where you can glide through the limestone structures and gaze at every detail.
Consisting of a maze of intertwining rivers, the Mekong Delta is full of lush vegetation, thousands of boats, floating markets, islands and even locals' homes! The river itself starts in the Himalayas and passes through four different countries and across 4,350 kilometres before reaching Vietnam. It is nicknamed the 'rice bowl', as more than half of Vietnam's rice and fish come from the delta region. Enjoy a boat tour along the river to experience tasty speciality Mekong dishes, explore villages, islands and markets, try exotic fruit and ride in a traditional Sampan boat.
The capital city of Vietnam is situated on the banks of the Red River and is one of the most ancient capitals in the world. Uncover well-preserved colonial buildings, ancient pagodas and unique museums whilst exploring the city. Take some time to explore the Old Quarter, known as the cities commercial district, where sellers began trading over 1000 years ago with items such as cotton, jewellery, herbs and silk. Visitors can also enjoy an abundance of delicious street food, from tasty noodle soup to fresh crab spring rolls, your taste buds will be overwhelmed with incredible flavours. To get a fantastic view of the entire city, visit the Lotte Tower Observation Deck and marvel at the uninterrupted views from the 65th floor.
National Parks and Waterfalls
Vietnam is host to a huge range of national parks that are worth a visit. One of which is Cuc Phuong National Park, which is the country's first national park and is one of Vietnam's most protected areas. It is home to over 2,000 species of trees, 307 species of bird, 133 species of mammal and 122 species of reptile, and has an Endangered Primate Rescue Centre recovers and Turtle Conservation Centre. There are also many beautiful waterfalls that should not be missed! Ban Gioc is one which falls between the Vietnam and China border and is created from two colliding waterfalls along the Quay Son River. The stunning waterfall cascades down a sheer 70-meter drop and span across 208m of rocky limestone. After soaking up the fantastic views, dare to climb up to the falls high points!
It's probably time for you to put your feet up after a few busy days of exploring! Well you're in luck, as Vietnam has an array of delightful beaches to choose from. Long Beach is based on the coast of Phu Quoc Island and is host to beachfront restaurants and bars boasting breathtaking sunset views. Doc Let beach based in Nha Trang is also worth a visit. It offers 18 kilometres of the pristine white sand, turquoise waters and beaming sunshine, the perfect combination for a relaxing trip to the beach.