Luxury Thailand Holidays 2023/2024
Show menu
Overview

Top Deals

Things To Do

Useful Facts
Welcome to the enchanting world of luxury Thailand holidays, where opulence and indulgence meet the unparalleled charm of the Land of Smiles. Embark on a bespoke journey designed exclusively for the discerning traveller, where holidays to Thailand transform into a mesmerizing experience of exploration, culture, and relaxation. Our meticulously curated Thailand holiday packages 2023 are tailored to surpass your every expectation. From the moment you arrive, our team of experts ensures seamless arrangements for your Thailand flights and hotel, allowing you to immerse yourself in the extravagance of your surroundings without a care in the world. Your bespoke itinerary is designed to showcase the very best that Thailand has to offer. Embark on a gastronomic adventure at Michelin-starred restaurants, where chefs transform the freshest local ingredients into culinary masterpieces. Immerse yourself in the ancient art of Thai wellness at award-winning spas, and explore the country's rich history and culture through exclusive, expert-led excursions. From awe-inspiring ancient temples to breathtaking natural wonders, our holidays to Thailand are an exquisite tapestry of unforgettable moments. Dive into the crystal-clear waters of the Andaman Sea, stroll through lush tropical gardens, or simply unwind in the serenity of your private sanctuary. As you embark on this extraordinary adventure, let us handle every detail of your Thailand flights and hotel stays, ensuring a stress-free experience from start to finish. With our curated Thailand holiday packages for 2023, you can rest assured that your dream escape awaits, crafted with the utmost care and attention to detail. Welcome to the epitome of luxury travel, where the magic of Thailand is yours to discover.
Things to do in Thailand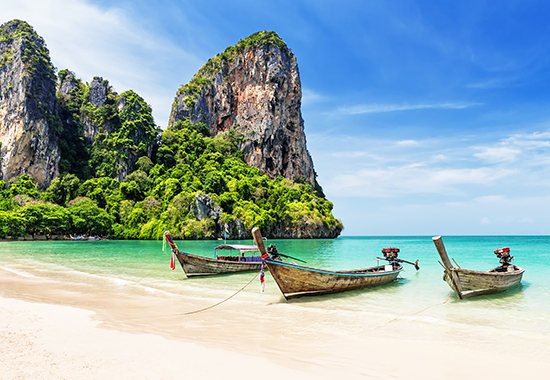 Island Hop
The best thing about...
Read more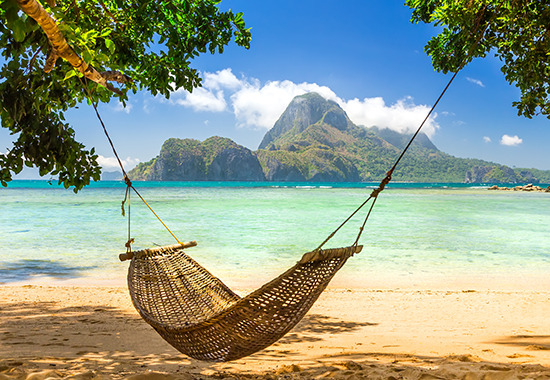 Beach Life
It goes without saying...
Read more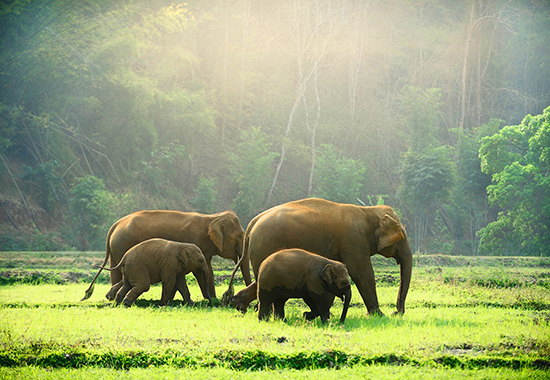 Ethical Elephant Experience
One of the most beautiful...
Read more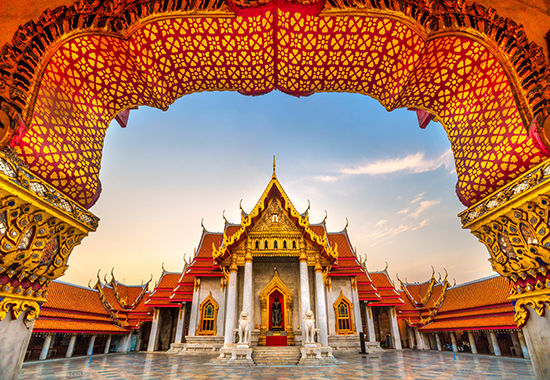 Temples, Palaces & Castles
If you're into religion,...
Read more
Bustling Street Markets
Whether you're a foodie,...
Read more
Useful facts about Thailand
Time difference
GMT + 6 hrs
Approx. flight time
11 Hours 25 minutes
VISA required
No - 30 days max
Capital city
Bangkok
Population
68 million
Currency
Thai Baht
The best thing about travelling to Thailand, is that there are so many beautiful islands to discover you never even knew existed. This jewel in Southeast Asia boasts no less than 5,000 miles of coastline, with a dot-to-dot map of rugged limestone rocks and bright white sands jutting out from the turquoise waters. Hop on a long-tail boat and discover pretty islands including Koh Phi Phi, Ko Phi Phi Don, Koh Tao, Koh Samui and beyond.
It goes without saying that the beaches in Thailand are otherworldly. The diverse and lengthy shoreline (two shorelines, in fact) means that sand-seekers can expect everything from exotic palm-lined stretches to bustling tourist spots. Dive with whale sharks and colourful marine life in Koh Tao, try kite-boarding in Hua Hin, relax on a sun lounger on Maenam Beach in Koh Samui, or mingle with the locals and lap up the awe-inspiring sunset on Koh Lipe beach. The options are endless.
Ethical Elephant Experience
One of the most beautiful animals on the planet, the Elephant is Thailand's national symbol and is a significant contributor to Thai society and culture. There are a handful of fantastic sanctuary's, sustainable projects and rescue and rehabilitation centers dotted across the country, which makes for a fantastic day out if you're a lover of these gentle giants. Elephant Nature Park in Chiang Mai is one of the best-known elephant conservation projects in Thailand, founded by award-winning conservationist Lek Chailert in 1995. Visit for the day and help prepare their lunch, or stay a little longer and spend more time getting to know these beautiful creatures. The intimate Boon Lott's Elephant Sanctuary offers rescued elephants a space to roam freely, with over 600 acres of forested grasslands, fields and rivers. Hands up who's up for a taking a bath with these big guys in the river?!
Temples, Palaces & Castles
If you're into religion, ancient-old temples and cultural landmarks, then you'll feel as though you've hit the jackpot when you visit Thailand. Whether you're exploring the bustling cities or idyllic islands, you'll find architectural delights to discover. The White Temple (Wat Rong Khun) in the Chiang Rai province is one of the newest temples in Thailand and a sight to behold; this fairy tale-inspired construction represents the "cycle of rebirth" with intricate details and design elements sure to wow. One of the most famous landmarks is Bangkok's Temple Of The Reclining Buddha, at a whopping 45m (150 feet) long, it's built near the Grand Palace – a spectacle in itself – and makes for a fantastic photograph. The Grand Palace is simply breathtaking; this sprawling 54-acre complex of spectacular buildings has been the official residence of the Kings of Siam for over 150 years and continues to host Royal functions to this day. We can see why.
Whether you're a foodie, fancy browsing the vibrant souks or want to experience a floating market, there are thousands of places to shop in Thailand – all of which bring the atmosphere! Chatuchak in Bangkok is possibly the biggest outdoor market in the entire world, with over 15,000 stalls (and 200,000 visitors over a weekend!) selling pretty much everything and anything you can think of. It's a popular place for tourists to experience for the hustle and bustle alone. Phuket Walking Street market is one of the best due to its pretty setting in the heart of the Old Town, with a backdrop of colourful buildings, you'll stumble upon a myriad of food vendors, street performers and stunt acts alongside a whole host of souvenirs, of course. The star attraction however has to be the floating markets of Bangkok; these bumper car-inspired experiences are wonderfully chaotic, with hundreds of long-tail boats shuffling along the narrow waterways, lined by bustling stalls consisting of street food, hand-crafted souvenirs, clothing and more.